We can't always talk about our work. Much of it is confidential and is ever only seen by the team we built it for. But IRIS is an exception - it's a publicly available tool that communities are encouraged to join up with!
If you're just joining us: IRIS is a web-based platform to help organizations connect the families they serve to the right resources in their community. We wrote more about it here.
We often talk about building new superpowers and delivering them to clients, and the IRIS team uses that same kind of language: IRIS empowers communities to build a family-centered referral network supported by common expectations.
Sprouting up and spreading out
IRIS is still new, but it's already being used in 17 communities - with almost a thousand users and more than 300 referring organizations. And there are even more communities getting ready to roll out: It's growing fast!
But getting started with IRIS takes some real coordination: you need to get a critical mass of social service agencies in your community to sign on all at once, and you need to do a lot of consensus-building about what kind of information to gather and pass on as a part of a referral.
Gardening is serious work
That also means it takes a lot of time and effort from the IRIS team to onboard each community! They facilitate the effort, and provide a TON of guidance and direction. That team is very, very busy.
To guide the process, we built the IRIS Implementation Guide; it's a step-by-step resource that introduces a community. It's a superpower for the Implementation team: delivering just the right onboarding content at the right time, and serving as a permanent repository of guidance and support.
Once you've been granted access, you get a step-by-step introduction to IRIS, walking you through the phases of launching - and all using the cute gardening metaphor. You can keep track of your progress and share milestones with other team members. There's a library of helpful tools to aid your organization process.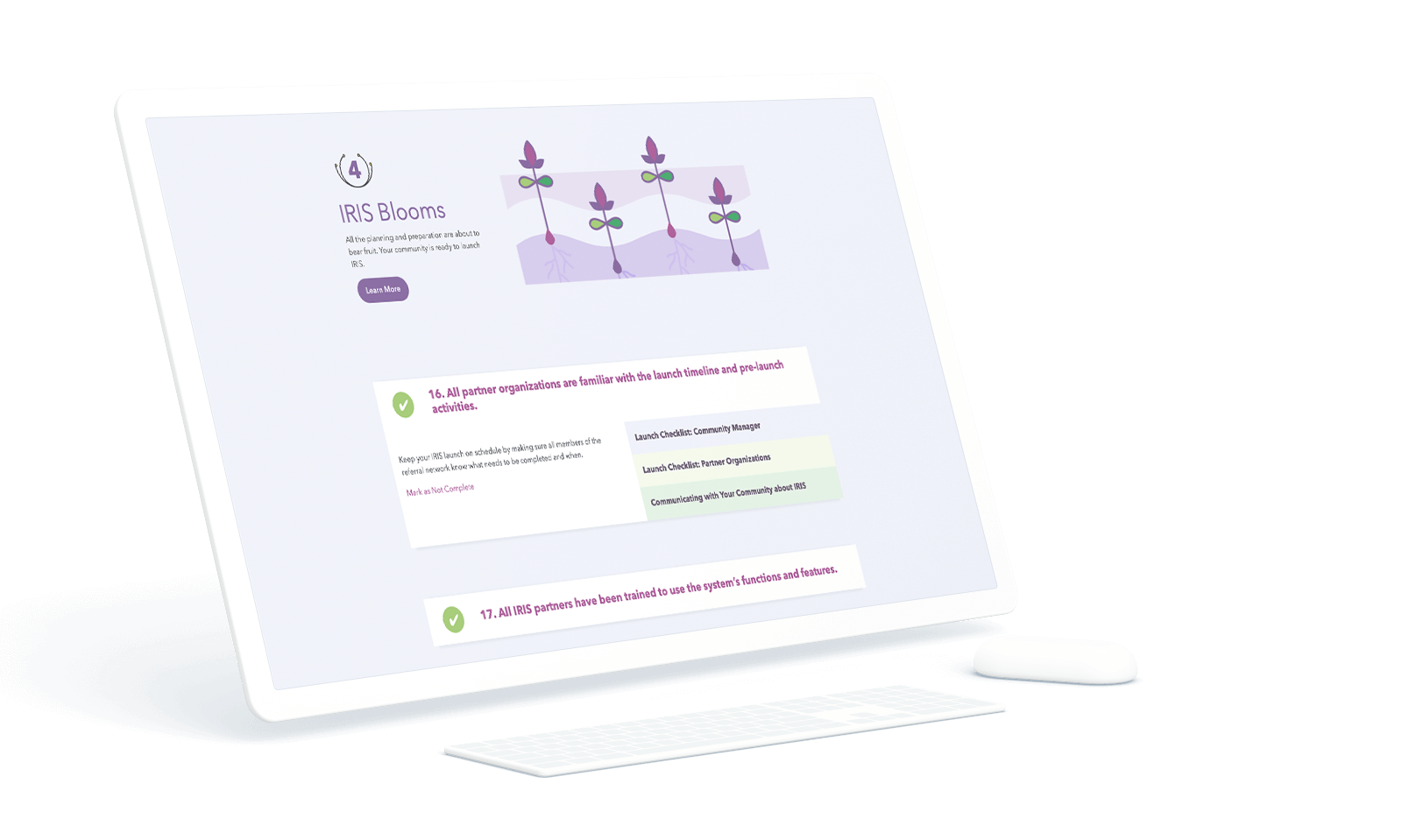 And of course, the IRIS team has full control over the content - they have an admin interface where they can add and update the steps, milestones, and tools. As they improve their process for onboarding communities, they can update this guide in real time. Here's what they said:
What a game changer the site has been for our team! Especially since we can so easily update and reorganize content as we refine our approach.