Hello! I'm Zoe!
I started working at Brand New Box in the summer of 2021 as a Full Stack Apprentice. I'm currently a sophomore majoring in computer science at the University of Kansas, but I didn't always know that I wanted to go into software development. I started out my college career studying chemical engineering on the pre-medicine track, but after just one semester, I realized that that wasn't for me. I changed my major about five times over winter break, and finally landed on computer science. After getting involved in a lab doing some computing and psycholinguistics research at KU, I quickly realized how programming makes everything so much more efficient and fell in love.
I decided to attend the Engineering and Computing Career Fair, just to get some practice talking to companies and recruiters. I didn't expect anything to come out of it, being a freshman with practically no experience in programming. But speaking with Matt and reading through some Brand New Box blog posts piqued my interest in the company, and I decided that I might as well throw my name in the hat and submit an application. I ended up meeting with Will and Ashley for an interview, and the rest is history.
After spending a few weeks learning the basics of Ruby on Rails, I was ready to dive headfirst into my self-guided project!
Art Supply Reviewer
I've always loved to make art in my spare time. But between drawing, painting, knitting, crocheting, and all the other hobbies I've dabbled in, art supplies can be expensive. And as I've gotten older, I've begun to realize how important it is to invest in higher quality products. But, it can be difficult to know what is really worth the price tag. It is very beneficial to hear from the perspectives of more experienced or even professional artists, but searching for individual reviews is tiresome and reviews left on store websites are often left by less-experienced people, which makes it difficult to know what products to purchase. Thus, my creatively-named app, Art Supply Reviewer, was born.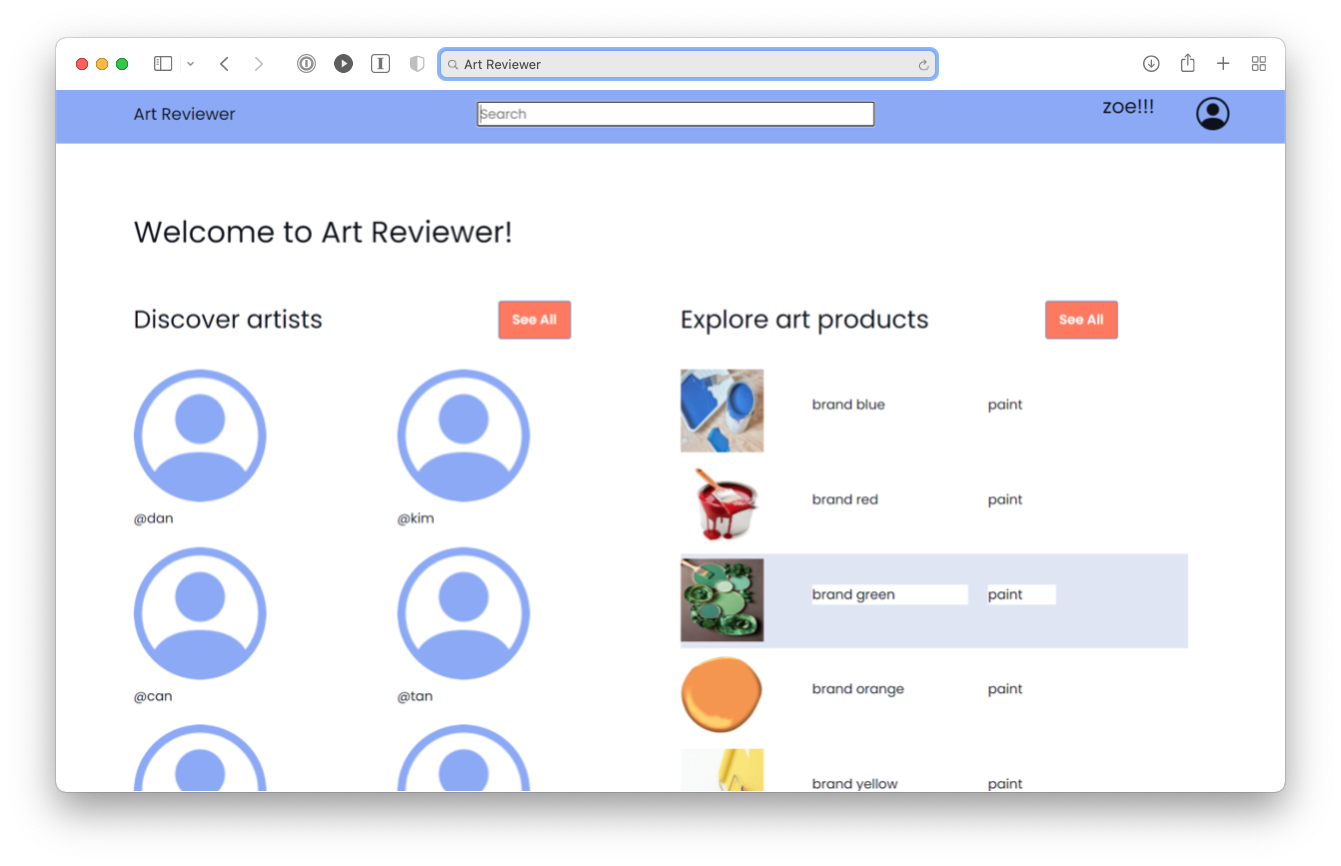 Art Supply Reviewer is a platform for artists to post reviews about their favorite art supplies and gain exposure for their work, and everyday users to discover new artists and find art supplies. All users can browse through products and read through reviews left by verified artists. Users can request to be verified, similarly to how users can be verified on Twitter or Instagram. Verified artists can then write reviews and provide links to their work and portfolios on the profile, allowing users to discover new artists to support. Thus allowing consumers to make the most well-informed decisions when purchasing new art supplies. With an account, all users are also able to favorite products, upvote reviews, and follow verified artists.
Creating this entire application from scratch seemed like a daunting task at first, but with guidance from the amazing people at Brand New Box, I was able to break down the project into more manageable chunks. From the development cycle to working with databases to responsive web design, and even seemingly simple things like using Github, I have learned so much more than I could have ever imagined. Especially considering where I started out, I'm incredibly proud of what I've been able to accomplish at Brand New Box so far, and I'm looking forward to the future!